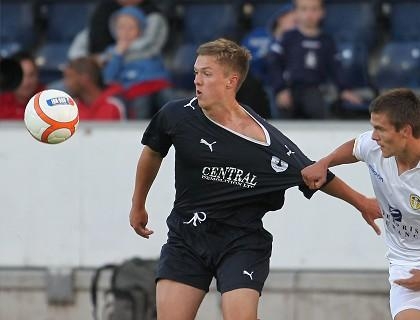 McInnes: Pitch won't affect result

Aberdeen boss Derek McInnes insists Falkirk's plastic pitch will not be an issue when the sides meet in the League Cup.


The Bairns are one of a number of clubs in the lower divisions with an artificial surface.


But, while keen for his players to become more accustomed to a different playing surface ahead of the third round tie, McInnes does not feel it will impact greatly on the result.


He said: "We are training at Forfar, which is the same pitch, so we will get the feel of it.


"But the pitch won't have any bearing on the result, let's make that clear.


"Win, lose or draw - it won't have any bearing on the result and nobody from Aberdeen will be saying otherwise.


"It is important to try to get the players used to it. It is a bit different to what we are used to.


"But it won't affect the outcome."


The feel good factor is high in the Dons camp following their win over Inverness at the weekend and McInnes wants more of the same on Wednesday night.


He said: "It's important that we maintain a level of performance.


"I don't think any team has out-worked us or totally out-played us this season yet and that's pleasing.


"The players showed both sides to the game at the weekend.


"I felt, in the first half especially, we were very brave on the ball, very slick and showed a lot of pace and good invention.


"The second half was more about other qualities and digging in and grinding out the result that we all wanted.


"In the cup, hopefully we can show all the qualities needed to get through."


On the challenge posed by Scottish Championship side Falkirk, McInnes added: "Every game in the cup is potentially tough.


"Falkirk are a good side and they had a good result against Dundee at the weekend.


"We've had them watched over the last wee while and we are well aware that it is a tough match for us.


"At the same time, we expect it to be a tough match for them as well.


"Regardless of whether we play in the league or the cup, we like to think it's our own efforts that will get us through so we've got to concentrate on ourselves."


Falkirk miss midfielder Ollie Durojaiye who broke a metatarsal bone last week when they try and create a shock.


Former Dundee United and St Johnstone defender David McCracken could play after getting some game time following injury in Saturday's 3-1 win over Dundee.


The Bairns' technical director Alex Smith said: "Aberdeen have won their last two games, but we took a real boost from a good performance and a good win at the weekend.


"We have shown in cup ties in the past how well we can play. If we play to that standard and they do not fancy it we can win."



Source: PA
Source: PA