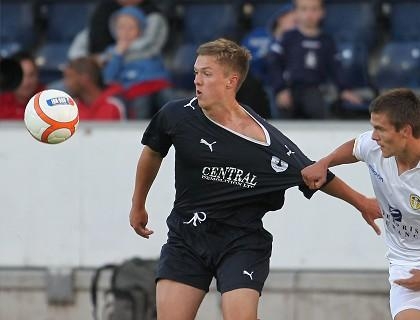 Bairns add Loy for cup clash

Rory Loy could make his Falkirk debut against Clyde in the first round of the Scottish Communities League Cup.

The new signing is added to the squad that knocked the Bully Wee out of the Ramsdens Cup with a 2-1 success last weekend.

Defender Jonathan Flynn remains out with an ankle injury and Kris Faulds is an injury doubt for the game that is being played at Alloa's Recreation Park.

"Clyde showed last week that they will battle for everything so we have to show the right attitude from the first whistle," said Falkirk's technical director Alex Smith.

"We cannot think that we won last week so we will win this week. If we get the attitude right we will win through."

Defender Gavin Brown returns for Clyde but Brian McQueen remains out with a knee injury and a hamstring problem keeps Sean Fitzharris away from the action.

Manager Jim Duffy is looking for his men to compete as well as they did last weekend.

He said: "Falkirk are a strong side and the changes they can make for this game could make them stronger. However, we stuck to the task well last weekend and will look to do the same in this tie.

"Falkirk are strong favourites but if we play like we can and they drop their game we are in with a chance."

Source: PA
Source: PA